Master
$ 699.95
20X FASTER + 2X STRONGER
Ultimate Versatility: change angles or repeat setups up to 20X faster.
Relentless Strength: black-oxide steel and hard-anodized aluminum construction.
Shockingly Smooth: two double-sealed needle bearings house a 1.25" case-hardened shaft.
Hassle-Free Square Tube Notching: industry-leading square clamping tech.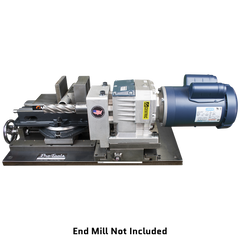 INDUSTRIAL
$ 6,409.99
UNMATCHED PERFORMANCE
Production-Level Speed: 1.5 HP motor eats through notches in just seconds.
Astonishing Precision: dial in any notch with fine adjustments: horizontal, vertical, and rotational.
Unrivaled Durability: over 400 lbs. of steel and a USA-made vise, gearbox, and motor.
Extraordinary Control: optional variable-speed setup increases tool life up to 200%.